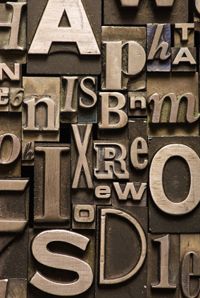 The list below provides a glossary of terms common in the printing industry. If you ever hear a printing word that you're not familiar with, there's a good chance that you can find it here.
Accordion Fold

A type of paper folding in which each fold runs in the opposite direction to the previous fold creating a pleated or accordion effect.

Agate

A type size of 5 1/2 points. Reference, agate line.

Agate Line

In newspaper classifieds, a measurement denoting 1/4 inch depth by one column width. 14 agate lines = one column inch.

Aqueous Plate

Water soluble plate coatings, which are less toxic and less polluting.

Art Work

Any materials or images that are prepared for graphic reproduction.

Artwork

All illustrated material, ornamentation, photos and charts etc., that is prepared for reproduction.

Basis Weight

Basis or basic weight refers to the weight, in pounds, of a ream (500 sheets) of paper cut to a given standard size for that particular paper grade.

Binding

Various methods of securing folded sections together and or fastening them to a cover, to form single copies of a book.

Blanket

On offset presses a fabric-reinforced sheet of rubber to transfer the impression from the plate onto the paper.

Bleed

Extra ink area that crosses trim line, used to allow for variations that occur when the reproduction is trimmed or die-cut.

Blind Emboss

A design or bas relief impression that is made without using inks or metal foils.

Blind Embossing

Embossed forms that are not inked, or gold leafed.

Bond

A grade of durable writing, printing and typing paper that has a standard size of 17x22 inches.

Book

A general classification to describe papers used to print books; its standard size is 25x38 inches. A printed work which contains more than 64 pages.

Bristol Board

A board paper of various thickness; having a smooth finish and used for printing and drawing.

Brochure

A pamphlet that is bound in booklet form.

Caliper

The measurement of thickness of paper expressed in thousandths of an inch or mils.

Coated (Paper)

Paper coated with clay, white pigments and a binder. Better for printing because there is less picking.

Coated Stock

Any paper that has a mineral coating applied after the paper is made, giving the paper a smoother finish.

Collate

To gather sheets or signatures together in their correct order. (see Gather)

Color Bars

This term refers to a color test strip, which is printed on the waste portion of a press sheet. It is a standardized (GATF-Graphic Arts Technical Foundation) process which allows a pressman to determine the quality of the printed material relative to ink density, registration, and dot gain. It also includes the Star Target, which is a similar system designed to detect inking problems.

Color Separating

The processes of separating the primary color components for printing.

Contrast

The degree of tonal separation or gradation in the range from black to white.

Copy

Refers to any typewritten material, art, photos etc., to be used for the printing process.

Cover

A term describing a general type of papers used for the covers of books, pamphlets etc.

Crop

To eliminate a portion of the art or copy as indicated by crop marks.

Crop Mark

Markings at edges of original or on guide sheet to indicate the area desired in reproduction with negative or plate trimmed (cropped) at the markings.

Cross-over

Elements that cross page boundaries and land on two consecutive pages (usually rules).

Cutter

Machine for accurately cutting stacks of paper to desired dimensions...can also be used to crease. Also trims out final bound books' top size (soft cover).

Cutting Die

Sharp edged device, usually made of steel, to cut paper, cardboard, etc., on a printing press.

Cyan

A shade of blue used in the four-color process; it reflects blue and green and absorbs red.

Die

Design, letters or shapes, cut into metal (mostly brass) for stamping book covers or embossing. An engraved stamp used for impressing an image or design.

Die Cutting

A method of using sharp steel ruled stamps or rollers to cut various shapes i.e. labels, boxes, image shapes, either post press or in line. The process of cutting paper in a shape or design by the use of a wooden die or block in which are positioned steel rules in the shape of the desired pattern.

Die Stamping

An intaglio process for printing from images engraved into copper or steel plates.

Digital Proof

Color separation data is digitally stored and then exposed to color photographic paper creating a picture of the final product before it is actually printed.

Dull Finish

Any matte finished paper.

Dummy

A term used to describe the preliminary assemblage of copy and art elements to be reproduced in the desired finished product; also called a comp.

Dummy Model

Resembling finished piece in every respect except that the pages and cover are blank, used by the designer as a final check on the appearance and +feel+ of the book as a guide for the size and position of elements on the jacket.

Duplex Paper

Paper which has a different color or finish on each side.

Embossed

A method of paper finishing whereby a pattern is pressed into the paper when it is dry.

Embossing

To raise in relief a design or letters already printed on card stock or heavy paper by an uninked block or die. In rubber and plastic plate making the process is usually done by heat.

Estimate

The form used by the printer to calculate the project for the print buyer. This form contains the basic parameters of the project including size, quantity, colors, bleeds, photos etc.

Estimator

One who computes or approximates the cost of work to be done on which quotation may be based.

Foils

Papers that have a surface resembling metal.

Fold Marks

Markings at top edges that show where folds should occur.

Folder

Machine used to fold signatures down into sections.

Font

The characters which make up a complete typeface and size.

Ganging

The bundling of two or more different printing projects on the same sheet of paper.

Gather

To assemble or collect sections into single copies of complete books for binding.

Grain

Direction of fibers in a sheet of paper governing paper properties such as increased size changes with relative humidity, across the grain, and better folding properties along the grain.

Gripper

A series of metal fingers that hold each sheet of paper as it passes through the various stages of the printing process.

Hickies

Imperfections in presswork due to dirt on press, trapping errors, etc.

House Sheet

This is a term that refers to a paper that a printer keeps on hand in his shop.

Imposition

Arrangement of pages so that they print correctly on a press sheet, and the pages are in proper order when the sheets are folded.

Indicia

Markings pre-printed on mailing envelopes to replace the stamp.

Job Number

A number assigned to a printing project used for record keeping and job tracking. Also used to retrieve old jobs for reprints or reworking by customer.

Letterpress

Printing that utilizes inked raised surfaces to create the image.

Linen

A paper that emulates the look and texture of linen cloth.

Lithography

The process of printing that utilizes flat inked surfaces to create the printed images.

M weight

The actual weight of 1000 sheets of any given size of paper.

Make Rready

Process of adjusting final plate on the press to fine tune or modify plate surface.

Matte Finish

A coated paper finish that goes through minimal calendaring. Reference, calendaring.

Natural

A term to describe papers that have a color similar to that of wood; also called cream, off-white or ivory.

Offset

The most commonly used printing method, whereby the printed material does not receive the ink directly from the printing plate but from an intermediary cylinder called a blanket which receives the ink from the plate and transfers it to the paper.

Offset Lithography

Indirect printing method in which the inked image on the press-plate is first printed onto a rubber blanket, then in turn offsets the inked impression on to the sheet of paper.

Offset Paper

A term for uncoated book paper.

Opacity

Quality of papers that defines its opaqueness or ability to prevent two-sided printing from showing through.

Opaque

A quality of paper that allows relatively little light to pass through.

Opaque Ink

Ink that completely covers any ink under itself.

Over Run

Surplus of copies printed.

Overprinting

Any printing that is done on an area that has already been printed.

Parent Sheet

A sheet that is larger than the cut stock of the same paper.

Perf Marks

Markings usually dotted lines at edges showing where perforations should occur.

Perforating

Punching small holes or slits in a sheet of paper or cardboard to facilitate tearing along a desired line.

Pica

Standard of measurement, 1/6 inch. 1 pica = 12 points 72 points = 1 inch

Plate

Reproduction of type or cuts in metal, plastic, rubber, or other material, to form a plate bearing a relief, planographic or intaglio printing surface.

Point

A measurement unit equal to 1/72 of an inch. 12 points to a pica, 72 points to an inch.

Press-Proof

Actual press sheet to show image, tone values and colors as well as imposition of frame or press-plate.

Process Inks

Printing inks, usually in sets of four colors. The most frequent combination is yellow, magenta, cyan, and black, which are printed, one over another in that order, to obtain a colored print with the desired hues, whites, blacks, and grays.

Proof

Impression from composed type or blocks, taken for checking and correction, from a lithographic plate to check accuracy of layout, type matter, tone and color reproduction.

Register

The arrangement of two or more images in exact alignment with each other.

Register Marks

Any crossmarks or other symbols used on layout to assure proper registration.

Right Angle Fold

A term that denotes folds that are 90 degrees to each other.

Saddle Stitching

Stitching where the wire staples pass through the spine from the outside and are clinched in the center. Only used with folded sections, either single sections or two or more sections inset to form a single section.

Score

Impressions or cuts in flat material to facilitate bending or tearing.

Self Cover

A cover made out of the same paper stock as the internal sheets.

Sheetwise

The printing of two different images on two different sides of a sheet of paper by turning the page over after the first side is printed and using the same gripper and side guides.

Slitting

A term to describe the process of cutting of printed sheets by the cutting wheels of a printing press.

Spiral Bind

A binding whereby a wire or plastic is spiraled through holes punched along the binding side.

Spot Color

Small area printed in a second color.

Stock

A term for unprinted paper or other material to be printed.

Text

A high quality printing paper.

Varnish

A clear shiny ink used to add gloss to printed pieces. The primary component of the ink vehicle. Reference, vehicle.

Washup

The procedure of cleaning a particular ink from all of the printing elements (rollers, plate, ink fountain etc.) of a press.

Web Press

Cylinder printing machine in which the paper is fed from a continuous reel, as opposed to sheet fed.