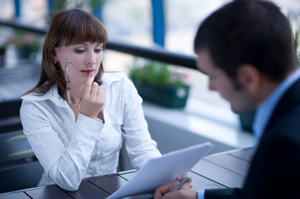 Here you'll find answers to common questions our clients ask. Start by selecting one of the links below. If you don't see what you need – call or contact us online.
What type of products and services do you provide?

While we can probably get you anything you might need, our specialties are large quantity offset printing using our main 4 color press as well as mailing and variable data printing services. For specific questions, please send us an Estimate Request using the linked form.

We have an online Estimate Request form that is just a click away. If you would prefer to talk to a sales representative directly, please give us a call toll free at (888) 889-0889 between 8am and 4pm Monday through Friday Pacific Time.

Tips on how to save your design files

Make them print ready and acceptable for us to print.

ADOBE INDESIGN:
From the file menu, select Adobe PDF Presets, Press Quality. Under the Marks and Bleeds category, either check the "Use Document Bleed Settings" box if you assigned a bleed when you created the document, or manually enter a 0.125" Bleed. Checking the Crop Marks box is also useful, but not necessary. Finish exporting, and you're done!

MICROSOFT OFFICE PUBLISHER:
For newer versions of Publisher, we recommend that you download this free update from Microsoft. Once you have it installed, open your file and select File, Publish as PDF or XPS. Select Save as PDF, and optimize for Commercial Press. If you are using bleeds, select Advanced, Custom paper size, and add 1/4" to width and height above the size of the piece that you are creating. Click the check boxes to enable Bleeds and Crop Marks. Click OK, and Publish. Your file will be saved in pdf format, and is ready to be sent to Savage Color to begin the proofing process.

For older versions of Publisher, you will need to have the full version of Adobe Acrobat PDF. If you don't please download and use our Adobe Job Ready Program. If you do have the full version of Adobe Acrobat PDF please follow the steps below.
Under File, Print, select Adobe PDF writer
Under Properties select Press Quality and Save your PDF

At what resolution should I save my photos and graphics?

Resolution should be set to 300 dpi.

Pictures and graphics pulled from the internet are often low resolution, typically 72 dpi or 96 dpi. Avoid these graphics, as they will appear pixilated and blocky when printed.

Also note that you should save all photos in CMYK mode, not RGB mode when possible. Images saved in RGB mode may not print properly. If you are unable to save your image in CMYK mode, please let us know.

What is a proof and why is it important that I look at it?

In printing terms, a proof is a one-off copy of your document after all modifications and printing setup processes have been completed. It is your last and best opportunity to make sure that the print job comes out the way you want. By carefully inspecting the proof, you can help us assure an accurate, flawless delivery of your print job on the first run.

What is the Pantone Matching System?

The Pantone Matching System (PMS) is a color reproduction standard in which colors all across the spectrum are each identified by a unique, independent number. The use of PMS allows us to precisely match colors and maintain color consistency throughout the printing process.

Why do the printed colors look different from the colors on my screen?

In short, printers and monitors produce colors in different ways.

Monitors use the RGB (red, green, blue) color model, which usually supports a wider spectrum of colors. Printers use the CMYK (cyan, magenta, yellow, black) color model, which can reproduce most—but not all—of the colors in the RGB color model. Depending on the equipment used, CMYK generally matches 85–90% of the colors in the RGB model.

When a color is selected from the RGB model that is out of the range of the CMYK model, the application chooses what it thinks is the closest color that will match. Programs like Adobe Photoshop will allow you to choose which color will be replaced. Others may not.

Is white considered a printing color?

Not typically. Because white is the default color of paper, it is simply recognized as the absence of any ink. However, when using colored paper, white ink may be used if any text or graphic requires it.

What file format should I use when submitting my electronic document for printing?

PDF (Portable Document Format) is the most common and preferred file format for submitting digital documents. With the installation of a PDF print driver on your computer, virtually any program can generate a PDF file suitable for printing. Both commercial and free PDF print drivers are available online for download from different sources.

Once I submit the documents, how long will it take to finish my job?

Honestly, it depends on the job. Normally we would tell you that a job will be completed and in your hands 3-5 business days from when we have an approved proof. Sometimes we can do it a little quicker. On very involved jobs, or during times when our press time is completely booked, it could take a little longer. If you have a specific time frame for your job, give us a call and we can see what's possible.