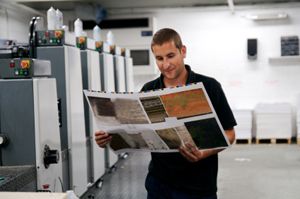 We look for many qualities in the individuals we hire -- the ability to communicate effectively, a high level of organization, interpersonal skills, sense of humor, and chocolate eater.
Regardless of an applicant's qualifications, we always look for one attribute in particular -- the desire to provide high quality products with excellent customer service. We can train people how to work with clients or run pieces of equipment, but to have passion for customer service and pride for your work takes a unique individual. If these are qualities you possess, we're sure you'll find a rewarding career with us. We offer training, and provide every opportunity for growth within our company.
Current Openings
We are a growing company on the lookout for individuals ready to grow.

Commercial Sales Associate

Savage Color, a commercial printing and mailing company in Seattle's Fremont neighborhood. We are looking for a sales professional targeting commercial accounts in the greater Seattle area. If you have outside sales experience we will educate you on printing. If you have a printing background, we will train you for sales. If you have both, bonus, let's talk asap!

You need to be an outgoing, detailed, self-starter. You may work remotely or come to the office daily and be a full-time or part-time employee (you choose). Your salary will be dependent on your experience and whether you choose to work full- or part-time. Your time is flexible, but will you need to come into the office several times a week to coordinate with our estimating and production staff. All training will be in the Fremont office.

We offer health, vision and life insurance to full-time employees. You must have your own vehicle and will be given a expense allowance.

Full-time, Part-time, Commission
We offer health, vision, life insurance, and a bus pass to full-time employees. We are a team of really nice people and a dog (who's always nice, especially when there are treats).